The other day there was a news article about the legal age for drinking being reduced to 21 years from 25 years in the National Capital Region (New Delhi). This disturbed me and set me thinking. It is so ironical that everyone knows that there is no virtue in either drinking or smoking; nevertheless, both flourish. In fact, the pictures showing how the habitual drinkers – who were forced to become teetotalers during the initial months of the lockdown last year – heaved a sigh of relief and stood in long serpentine queues from 6 A M to guzzle what they consider the elixir of life, were there for everyone to see.
What is disturbing is that alcoholism and smoking have become acceptable. Eyebrows are only occasionally raised – especially when a woman is smoking or drinking. There is still a retrograde belief in society that it is alright for men to smoke and drink but not for women. Let me state here emphatically that it is my firm belief that smoking and drinking are vices irrespective of gender.
Unfortunately, smoking and drinking are, by and large, associated with being cool, modern and sophisticated. I still remember watching the opening scene of the movie Bareilly Ki Barfi – the father and the daughter sharing a cigarette – and cringing. This scene somehow left a very bad taste in the mouth. I feel there are better ways of depicting a modern and progressive outlook. A cigarette should not be something that a father and child bond over. And by no means, can it be treated as a symbol of gender equality.
Romanticizing spirits and smoke has been an inseparable part of the tinsel world both in real and reel lives. Almost every song is replete with words like Saaqi ( an attendant who fills and serves glasses of drink), Jaam (Wine glass), Bekhudi (senseless due to intoxication), Sharaab (wine), Nasha (intoxication), Khumaar (hangover) all of which are vivid images drawn from the act of drinking. There are so many movies where the protagonist does not let go of the cigar/cigarette even for a split second. Kaagaz Ke Phool is a classic example of this. In the first half of the movie, it is difficult to find frames where Guru Dutt lets go of the cigar. In the second half, he is wedded to spirits.
Several talented members of the film fraternity have bid goodbye to this world much earlier than they should have because of these vices. The one particular song that I hate and love is Main Zindagi Ka Saath Nibhata Chala Gaya from the movie Hum Dono (1961). The music is wonderful and so is Rafi's rendition. The lyrics and the on screen portrayal are, however, problematic. Somehow, to say that the only way to deal with worries is to puff up, just doesn't sound sane.
Main Zindagi Ka Saath Nibhaata Chala Gaya
Har Fikr Ko Dhuen Mein Udaata Chala Gaya
There is an urgent need to deglamorize smoking and drinking. There is the 'social drinker', who supposedly drinks only in social situations such as work outings, parties, and other gatherings with family and friends. Social drinkers often consume a moderate amount of alcohol and are well within their safe drinking limits, though this isn't always the case. When social drinking has reached the stage of problem drinking is not easy to ascertain. Ditto for social smoking. Smoking is perhaps the more ruthless addiction for it does not spare the non-smokers who are in the company of the smoker. Passive smoking is equally harmful.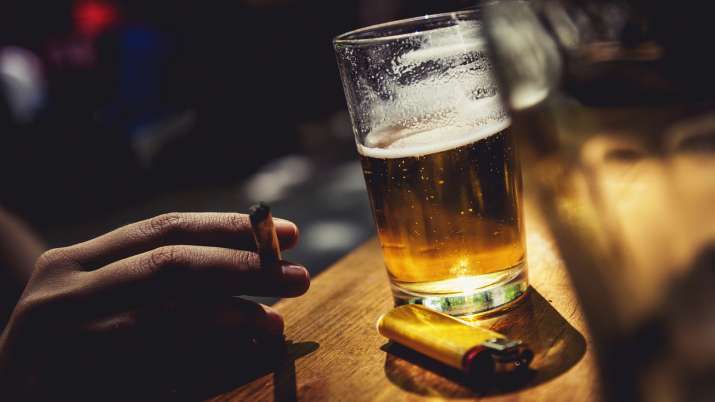 Smoking and drinking – social or otherwise – are akin to treading a slippery slope. It is a path of self-destruction. Thus, there is no glamour or sophistication in indulging in spirits and puffs. There are more inexpensive and harmless ways of relieving stress and being happy; going for a walk or chatting with your best friend or picking up a book helps. I just hope that some day sense prevails on society. I will wait for the day when vices will not be romanticized and accepted; pandering to vices is and must remain in the realm of errant behaviour. Further, the gender construct is senseless in the context of smoking and drinking. Nicotine and alcohol destroy the person (and the family!!😒), irrespective of gender!