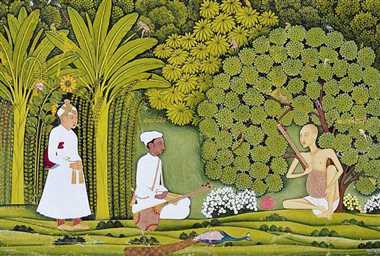 Are you startled after reading the title of my blog post? I know any one would, because a song is (anyway!) synonymous with music. So, the title does appear ludicrous. Let me explain what I mean by the title. When I was writing the blog post on Songs of the Charmer – Jaadugar Special, a couple of weeks ago, it struck me that music by itself is so magical. It casts a spell on the listener, who then yearns to hear more. There are many more facets of music which I wanted to explore through the songs of the golden era. And hence, this post.
When I mean songs of music, I mean those songs which deal with the many dimensions of music or where music plays a very important role in the song and / or the movie. It is songs that espouse the cause of music or are music centric that I am alluding to. I am going to make sub – categories. I am sure there would be several songs that would fit into some sub-categories and barely any in the others. I shall list only one song for each sub category, which I think is most representative. There could also be some overlap between sub-categories. The songs of my playlist are of the golden era.
1) Music being synonymous with divinity Divinity and music are intertwined. Music is not just the food of love as Shakespeare would believe; it is also food for the soul. Music is often seen as a means of attaining salvation. It is a means of dedicating oneself to the ultimate truth. That is the reason why there is so much music in nature. This is perhaps why Ravindra Jain penned these lovely lines for a non-film song sung mellifluously by Yesudas.
Prakriti Ke Kan Kan Mein, 
Kan Kan Mein Sangeet, 
Ishwar Ki Sab Rachnayein, 
Kuch Kavitaein Kuch Geet
There is possibly no other film song than the one I mention below which consummately sums up this sentiment. Basant Bahaar, the movie from which this song is, made after Baiju Baawra was a movie which was made on the subject of classical music. It proved that Shankar Jaikishan were as adept at using the seven notes as Naushad – who had directed the music of Baiju Baawra.
Sur Na Saje (Basant Bahaar, 1956) Lyricist: Shailendra; Music Directors: Shankar Jaikishan; Playback Singer: Manna De. I love the lyrics (especially the highlighted part which means devoting oneself to music is the same as devoting oneself to God) and the divine voice of Manna De. With his strong classical music grounding, he does a fabulous job in this song, which is set to Raag Piloo.
Sur na saje kya gau mai
sur ke bina, jivan suna...

sangeet man ko pankh lagaye
geeton mein rimajhim ras barasaein
swar ki saadhana 
parameshvar ki sur na saje
2) An ode to music Between the 1940s and 1960s there were several movies made on the subject of music and musicians. As a result, in keeping with the subject, several songs were based on classical raagas. Going a step ahead, there were also songs composed as an ode to music. My post bears testimony to this fact.
The song I have zeroed in on for this sub-category is from a nondescript movie called Chandramukhi. It has some lovely songs. This particular song that I mention – Manbhaavan Sangeet Suhavan – is a perfect tribute to music. It refers to the various gods and goddesses who espouse the cause of music.
Aadi Brahma lay sur upjaaye
saat suran ke haath sajaaye
maha guni Naarad ne apni
veena par kiske gun gaaye
Manbhaavan Sangeet Suhavan (Chandramukhi, 1960) Lyricist: Bharat Vyas; Music Director: S.N.Tripathi; Playback Singer: Manna De. This is a heavenly song based on Raag Basant Bahar – the same Raag on which the song Ketaki Gulab Juhi (Basant Bahar, 1956) was based. It is in no way inferior to the song from Basant Bahar. However, this has not got the recognition it deserved.
3) Music as Therapy Music has a great power of healing; it aids in soothing frayed nerves. This is in fact an acclaimed branch of medicine. It helps to mitigate anxiety and even restore lost speech. When you are depressed or restless, if you listen to your favourite music, you do feel re-energized and reassured.
The song that I feel represents this facet of music the best is the one from the movie Shabab. The vocal prelude of the lullaby says it all. The raagi and rogi connection is beautifully established.
Sangeet hain shakti eeshwar ki 
har sur mein base hai Ram
raagi jo sunaaye raag madhur,
 rogi ko mile aaraam
Chandan Ka Palna (Shabab, 1954) Lyricist: Shakeel Badayuni; Music Director: Naushad; Playback Singer: Hemant Kumar (this song has multiple versions and there is one as a duet too with Lata also singing) This gem from one of the early movies of Nutan boasts of several lovely songs. The movie is a fractured fairytale, ending tragically. The film is about an insomniac princess whose malady can only be treated by music, which the protagonist manages to, with great aplomb. In this song, Nutan finally falls asleep after hearing the lullaby which indeed is soothing. Shakeel's lyrics, Naushad's music and Hemant's soft melodious voice would provide the much needed succour to anyone! The clip below has all the versions of the lullaby.
4) The lip-syncing facet of music That lip syncing is what revolutionized film music is something that everyone acknowledges. Songs in the early movies were sung by the actors themselves and then were completely taken over by stalwart playback singers, whom we worship till this day. Lip syncing and the associated goof ups was the theme that made the movie Padosan a blockbuster.
The song that I have chosen for this category however is not from Padosan. It is from the movie Dooj Ka Chand which was produced by Bharat Bhushan.
Phul Gendwa Na Maaro (Dooj Ka Chand, 1964) Lyricist: Sahir Ludhianvi; Music Director: Roshan; Playback Singer: Manna De. This song delightfully composed by Roshan humorously portrays the compounded misery of Agha who cannot sing for nuts but wants to impress the damsel (Jeevankala) and thus is produced a masterpiece. You must watch this song to appreciate it in its entirety. It is a gem which unfortunately has not got the recognition it deserved. No playback singer other than Manna De – who has lent his voice – could have pulled this song off!
5) Teaching Music without success Learning (classical music) is considered very important in many parts of India. Many start learning music at a very young age. I am also one of those who is making my children learn Carnatic music though they do not show too much enthusiasm at times! There are those who however cannot sing despite their best efforts. One has to acknowledge that having an ear for good music and appreciating the nuances and singing with flourish is not something that everyone can do. And if you try to teach music to those who do not have it in them, then the consequences can be both rib tickling and disastrous.
The song that I have chosen for this sub category is from Munimji (1955). The lyrics reproduced below say it all. For someone who cannot sing, how herculean this task would be is evident in the song. (Scenes form Padosan also would be apt for this sub-category).
Dil ki umangein hain jawaan gaiye na
kya mushkil hain, sargam bataun
pa ma pa dha pa ga sa pa
dil ki umangein hain jawa, gaiye
Dil Ki Umangen Hain Jawaan (Munimji, 1955) Lyricist: Sahir Ludhianvi; Music Director: S.D.Burman; Playback Singers: Hemant Kumar, Geeta Dutt and Pran(?). This is a well picturized, loveable song which is as much of a pleasure to hear as to see. Pran struggling to sing and the other two egging him on and having fun at his expense is the highlight of the song. Pran actually does ham it up very well.
6) Frustration at not being able to sing All those who have tried to sing but have failed miserably would understand this feeling vey well. Singing and playing instruments is not possible for every one. Thus, there will come a time when there is a realization that you are just not made for it!
The representative song of this sub category is from Miss Mary where Kishore Kumar – the perfect entertainer – pulls off a marvellous performance. Ironically, even as he sings gana na aaya bajaana na aaya, he sings wonderfully and the song is a riot of musical notes and lyrics in different languages!
Haaramoniyam bajayaa, tablaa bajayaa
ye bhi bajayaa, aur wo bhi bajayaa, 
magar afsos
gana na aaya bajanaa na aaya
dilbar ko apnaa bananaa na aaya
Gana Na Aaya (Miss Mary, 1957), Lyricist: Rajinder Krishan; Music Director: Hemant Kumar; Playback Singer: Kishore Kumar. If there is someone who can sing songs of this genre which are complete entertainers with little rationale, it is Kishore Kumar. Surprisingly, Hemant Kumar's music also matches the madness of the song. The lyrics too are pretty desultory. But altogether, the song is a wonderful piece of musical comedy, if one may call it so.
7) In the guise of the music teacher This is a ruse that has been used in many a movie where the hero or his second fiddle disguises himself as the music teacher and teaches his love interest music. The lady of course initially is clueless about the identity of the teacher and detests him. But soon the cat is out of the bag and the entire tone and tenor of the song on screen changes. Thus, such songs become lighthearted after the guise is discovered.
The song I have in mind for this sub-category is Ajahu Na Aaye Baalma. This when only heard and not seen seems to be a song meant for a serious situation. However, it is actually Mehmood in the guise of the music teacher lip syncing it on screen; his lady love Shubha Khote recognizes him after a little effort from Mehmood. It is then that she also begins to sing whole heartedly. It is therefore a song in jest.
Ajahu Na Aaye Baalma (Saanjh Aur Sawera, 1964) Lyricist: Hasrat Jaipuri, Music Directors: Shankar Jaikishan; Playback Singers: Md. Rafi and Suman Kalyanpur. Set to Raag Madhuvanti, this is a masterpiece. It is because of the situation in the movie that it is used for, that makes it a lighthearted song. This song could be rated as one of the best duets of Rafi and Suman Kalyanpur. For music lovers, just hearing would suffice.
8) The Musical Duel This is another dimension of music which one finds very often depicted in Hindi film music – Qawwali being one of them. The contest is very interesting to watch. However, the greatest musical duel which is almost legendary is the one between Tansen and Baiju Bawra which has been the subject of many a movie.
The song I have chosen for this sub-category is Aaj Gaavat Man Mero Jhoom Ke (you guessed it right!) from Baiju Bawra. In this duel, whoever melts a marble slab with his singing will win. The one who loses will also lose his life. What follows is a musical showdown witnessed by emperor Akbar and the entire court. Finally, Baiju outwits Tansen and wins the contest. The fact that the marble actually melts by the energy produced from the music of the maestros also highlights the miraculous quality that music has.
Haar gayaa to jeewan jaawe
jeetaa gaayak duniyaa paawe
rakhiyo ab mori shaan re
aaj gaawat man mero jhoom ke
Aaj Gaavat Man Mero Jhoom Ke (Baiju Baawra, 1952) Lyricist: Shakeel Badayuni; Music Director: Naushad; Playback Singers: Pt.D V Paluskar and Ustaad Amir Khan. Naushad is credited to have introduced Hindustani Classical music into Hindi film music and in that sense, this song is a milestone. Since the musical confrontation between the two greats Tansen and Baiju had to appear real, Naushad chose two doyens of Hindustani Classical music – Pt. D V Paluskar and Ustaad Amir Khan – instead of frontrunner playback singers. Set to Raag Desi, this Khayal became the highlight of the film. Vijay Bhatt the director of the film had a major role along with Naushad in introducing classical music based songs in mainstream Hindi cinema.
9) Music as a unifying force Do you recall Mile Sur Mera Tumhara that used to come on Doordarshan? This is what I mean when I say music has a force that can unify. This is perhaps what explains the fact that music has universal appeal and breaks the barriers of language, ethnicity and religion. Pandit Bhimsen Joshi sings soulfully in Raag Bhairavi and sets the tone.
The song representative of this sub-category is the multi-lingual song that V. Shantaram incorporated in his movie Teen Batti Char Raasta – a movie made on the theme of national integration. This song featured 7 different languages which obviously involved several music directors, playback singers and lyricists to integrate the myriad regional and linguistic flavours into one melting pot.
Orey Oo Poraan Bondhu Re (Teen Batti Chaar Raasta, 1953) Lyricists: Kanu Ghosh (Bangla), Natraj (Tamil), GD Madgulkar (Marathi), Ram Panjwani (Sindhi), P L Santoshi (Banarasi Hindi), Feroz (Punjabi); Music Directors: Kanu Ghosh (Bangla), Natraj (Tamil), Vasant Desai (Marathi), Pt Shivram Krishnan (Hindi and Punjabi), Avinash Vyas (Gujarati); Playback Singers – Lata Mangeshkar(?), Asha Bhonsle, Zohrabai Ambalewaali and Balbir. Arunkumar Deshmukh of SoY fame has wonderfully captured all the details of this song.
10) Didactic outpourings on music There have also been songs composed on what music should be like in the Indian context. These are preachy songs that try to revive the past glory and richness of Indian music. Such songs denounce aping the west.
The song that I have picked for this sub-category is one that belongs to a movie where one would least expect to find. The song is Tin Kanasthar Peet Peetkar from the movie Love Marriage which had Dev Anand playing the role of a cricketer.
Nakal ka dhandhaa chal nahin saktaa
 ik din to pachhataanaa hain..

bhool gayaa tu Taansen ki 
taan yahin par goonji thi
sur ke jaadugar Baiju ki 
shaan yahin par goonji thi
mar ke amar hain Sehgal 
uskaa har koyi deewaanaa hain..

yaar mere mat buraa maan 
ye gaanaa hain na bajaanaa hain

Tin Kanasthar Peet Peetkar (Love Marriage, 1959) Lyricist: Shailendra; Music Directors: Shankar Jaikishan; Playback Singer: Md. Rafi. This song is a complete misfit if one looks at the subject of the movie and thus never became popular. Love Marriage is known for its melodious romantic duets and rightly so. This song somehow stuck in my memory having watched it on Doordarshan years ago. The tone of the song is pretty sanctimonious and does tend to put you off after a while.
Here I come to the end of the post on the many facets of music that have been depicted in Hindi film songs of the golden era. Like I said at the beginning, there could be some overlap in the sub-categories. My post was a humble attempt to understand the manner in which music – especially Classical music – has been depicted and used in Hindi film music. I am sure there would be many more songs of music. Since, music is the food of the soul (and love!), play on ( listen on too!) and add on!